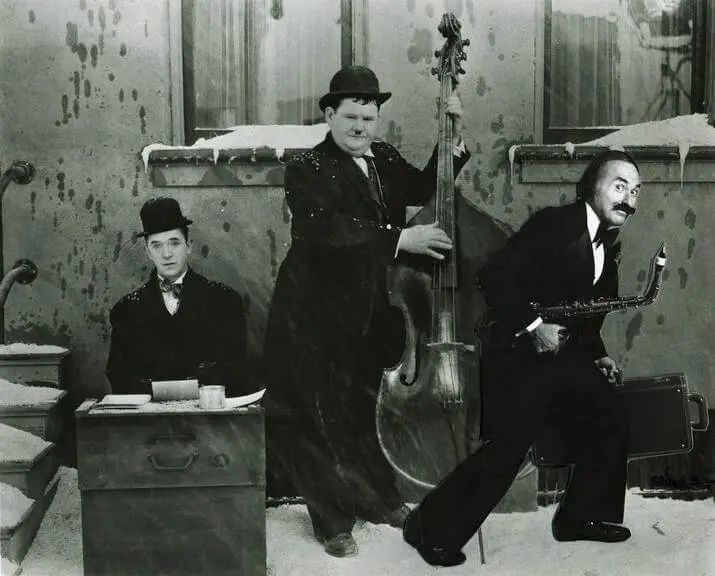 Dick Saunders has been a professional musician throughout his life, both as an instrumentalist and singer, playing for television, radio, film, and live shows, as well as big band dance music. His instruments are saxophone, clarinet, and flute, as well as singing and conducting.
Dick's musical career began in 1934, at age four, in New York City, as a singer on radio station WLTH. He went on to join Big Brother Bob Emory's Rainbow House on WOR radio, continuing there until eleven years old. At age fourteen, Dick had his first band, and played the Borscht Circuit (Catskill Mountains in Upstate New York) every summer through his first year at college, playing dance music and shows.
He graduated from the High School of Music and Art in New York City, and Manhattan School of Music, a major music conservatory in the Upper West Side of New York City. In 1950, Dick received a scholarship from Hugh Ross (conductor of the Schola Cantorum), to attend Tanglewood, the Berkshire Music Festival, as chorus leader and conductor.There he met his wife, Lynora (Lee) Goldman, who was studying  orchestral  conducting under Leonard Bernstein They married the following year, while Dick was on leave from conducting the Air Force Band in Phoenix, Arizona.
While in the Air Force, and stationed in Phoenix, Dick became the music director of a weekly Air Force sponsored variety show on local television, played and conducted  the band and choral group on base, and played flute with the Phoenix Symphony. Stationed in Alaska for a year, Dick's musical talents also expanded to the Air Force  newspaper as a cartoonist, where he published two cartoon books  ~ A.P.O. Seattle, and A Cheechako Sees Alaska. After leaving the service he remained with the Phoenix Symphony, playing local clubs, and obtaining a Bachelor of Music Degree from Arizona State University.
The next move was to Los Angeles, going on the road with his own group, The Dick Saunders ~ Marcie Miller Quintet for five years, playing mostly the Nevada circuit of Las Vegas, Reno, and Lake Tahoe, with the rest of the year playing music from the east coast to the west and everywhere inbetween.
Dick stayed in Los Angeles working at motion picture studios, clubs, private and corporate parties, celebrity homes, major hotels, television stations, and working with the most prominent and talented musicians in the Los Angeles area.
Moving to Lake Oswego, Oregon, Dick is now living with his wife Lee (a pianist, artist, and writer), his daughter Melody (a photographer), Drama (a black standard poodle), Korki (a miniature schnauzer), and two sheep, Major and Minor ~ and is still involved as ever in music, cartooning and fixing.
Photos by Melody Saunders Photography